Our core values
Our growth has been made possible by developing strong relationships with like-minded entrepreneurs, project managers, and homeowners who hold the same 6 core-values as us.

Innovation
We are constantly evolving, with bold imagination and creative ideas fuelling continuous improvement across all aspects of our business.

Integrity
We believe that transparency and trust lead to mutual respect and honesty in all corners of our organization.

Professionalism
We are friendly and professional, and we make sure the customer is the hero every time.

Quality
We focus on reliability, ease of use, and attention to detail in both product and service.

People
We embody inclusivity, collaboration, and support, while encouraging personal and professional development.

Entrepreneurial Spirit
We are empowered to take risks without fear of failure, with individual initiative and open-mindedness driving our growth.
If you align with any of these, you're going to LOVE us. And we're going to love you right back.
The Big Star Lights Team
Discover the personalities that light up The Big Star Lights Team. These are the incredible folks who make the magic possible, each with their own special glow.
TOP TEN
Great people are EVERYTHING. (All the other nice stuff will just happen on its own)
Munchkin hugs
Pie (strawberry rhubarb)
Shut up legs!
Lighting it up… no, really: LIGHT-IT-UP! (don't be skimpy now)
Unicorns are real
Wind, water, sea, loam, mud, powder are my flavours
You have more regrets saying no than you do saying yes
Sunsets
Create opportunity, seize it, be thankful for it, then pass it along. Nothing is owned.
TOP TEN
Listening to/playing/performing music, from baroque to folk to techno
FOOD of all kinds, but mostly authentic Japanese, Vietnamese, and Korean food
Seeing different landscapes from up high (planes, mountains, tall buildings)
The west coast ocean air
Sophisticated scents
Excellent software that is equal parts functional, intuitive, and pretty
Travelling to new places
Beautiful shoes, whether they are a good pair of sneakers or stilettos
Collaborating with, supporting, and learning from people who are experts in their field
Elegant Christmas light displays!!

TOP TEN
Performing in a Band or DJ-ing
Hanging with real ones smiling and laughing all night
Quality time with my favourite people
Gaming
Producing, Jamming & Creating music
Brilliant views
Dank memes, funny movies & TV shows
Fire Pits & Cold ones
Singing in my car because I'm too shy to sing in front of people
Giving your all into something and being proud of the end result
Honourable mention: Playing disc golf
Hanh
Financial Controller
"Momma Hanh"
TOP TEN
Family
Friends
Team
Reading
Walking
Karaoke
Studying/Learning new things
Practical jokes
Quiet time
And of course shopping!
Ophelia
Book Keeping Associate
TOP TEN
Travelling and exploring as much as possible
EXPERIENCES > STUFF
Spontaneity and all the adventures
FOOD. Eating, cooking and sharing it
Feeding other people; family, friends and strangers (aka: soon-to-be acquaintances)
Time = freedom
Scuba diving, hiking, running, camping, paddle boarding, creating
Games. Of any kind.
Inner Child Personality = Outer Adult Lifestyle
The people you meet along the way and the memories you create with them that shape your life in vigorously impactful ways
Heather
Sales + Marketing Manager
"The OX"
TOP TEN
The smell of cherry blossoms at dusk
Chilly dips
Potlucks
Three + part harmonies aka goosebump territory
Getting reaaaal dirty in the garden. Who needs gloves?
The sound of a soccer ball being kicked
Freshly cut grass
Sleeping on a sail boat moored in the Great Blue Hole
Flying down a hill with no brakes on my bike
Random phone calls from old friends
Alexis
Senior Sales & Account Rep
"The Glue"
TOP TEN
Saying something slightly unhinged in the company of new acquaintances and watching their process as they uncomfortably navigate. Trying for a PC and polite response
Iceland
Fog. Especially when it's touching the surface of water.
Raspberry Frozen Yogurt - the fresh stuff!
Smiling at strangers
Creating something, anything with my hands
Being at the controls of a longggg and far drive or flight… to hot springs
Ducks - not spiders. They are such gorgeous, yet freaky little a**holes. Also, delicious!
TACOS
The smell of the rain
Not exactly breaking the rules, but certainly not following them. Everything on the outside of normal is always a little more interesting.
Sheena
Sales Rep + Marketing Associate
TOP TEN
Petrichor! Breathe in that sweet smell of rain 😌
Autumn & Spring
Quality over quantity
Spa Days are a necessity, not a luxury.
A whiff of that campfire scent that takes you back to feeling wild and free sleeping under the stars
Sunsets
ELEPHANTS! 🐘 Such gentle creatures
Pretty is as pretty does.
Art & aesthetics all day everyday ❤️
Good manners
TOP TEN
Long walks through the woods at night
Long arduous airplane journeys, multiple stopovers prefered
Eating saucy chicken wings in hotel beds, room must have a view
Snow
Fire
Taking pictures of lightning, closer the better
Space, the galaxy, the universe, and everything
Screen time
Getting lost
Breaking down in remote areas with no cell service
Samantha
Digital Media Coordinator
TOP TEN
The Alchemist by Paulo Coelho
Green tea
The sound of crackling wood on fire
The sky & CLOUDS, I love clouds
Backyard movie nights with some BSL LED lights
Travelling and learning about different cultures
Chocolate covered almonds
Any form of ART
Penny boards, Roller blades, Scooters = Advanced walking
I don't believe in coincidences
suzen
warehouse supervisor
TOP TEN
The feeling of being where you belong when I am by the ocean
Watching birds of all kinds flit around the skies
Walking down paths filled with oranges and yellows due to the changing of seasons
When acorn squash is in season so yummy roasty toasty
A nice steeped cup of a fantastic herbal loose tea (Shout out to the Great Wall Of Tea)
All the animals cute and fluffy chubby and stout they all have a place in my heart,
Yellowknife, NWT even better in the winter when you can walk on the lakes and rave in a ice castle!
Late night bike rides in the winter to check out all the Christmas lights
Being close to the earth and sowing seeds into the ground so they can become plentiful and feed me and friends
A good macrame project always keeps my hands busy and mind occupied.
Kyle
Warehouse Supervisor
TOP TEN
Ducks
The smell of fresh rain on concrete
Rippin' and dippin'
Disc Golf
Bob Ross
Old buildings
Loud noises
The movie Highlander (the original)
The number 5
The Second Italo-Abyssinian War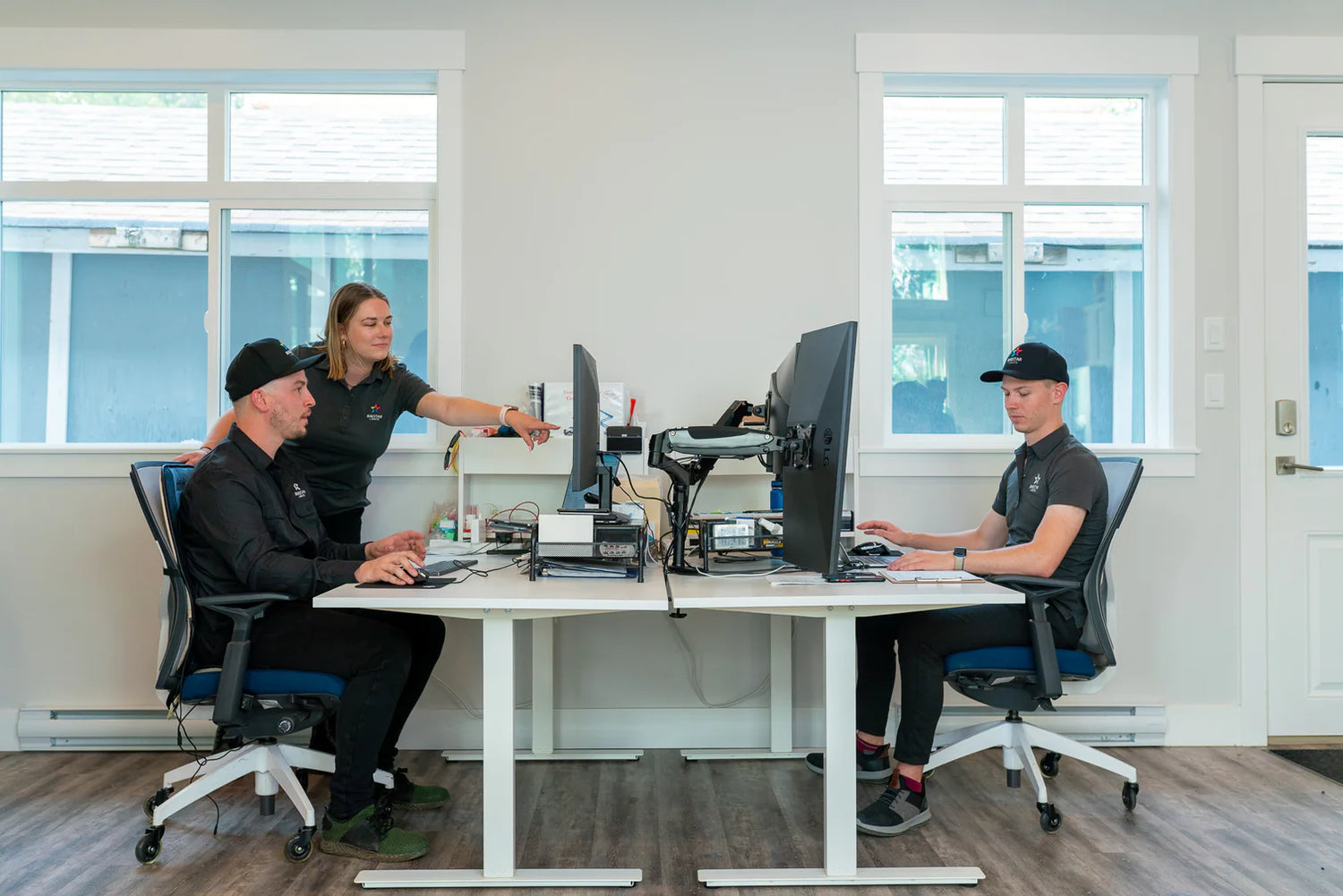 Would you like to join our team?
We're always on the hunt for like-minded people to join our team! Please don't hesitate to reach out with our Contact Form or click the link below to check out our Careers page.
Careers